Our OSHA 10-Hour Construction New York Spanish Outreach Training
Information on employee rights, employer responsibilities, and techniques for identifying, mitigating, averting, and preventing workplace hazards are all covered in this program. There are several topics related to worker safety are also covered in this course. We, at OSHApractice.com, also include additional knowledge on workplace cultural environment and give practical demonstrations to develop more clear and proper understanding.
Our course details meet the standards of the Occupational Safety and Health Administration (OSHA). However, this is a voluntary course that helps to boost your career opportunities and make you stand out among others. In OSHA 10-Hour construction NY Spanish training courses, the participants will acknowledge about first aid instruction, fire extinguisher equipment, machine guarding, employee emergency plans, handling of manual and heavy products, and more.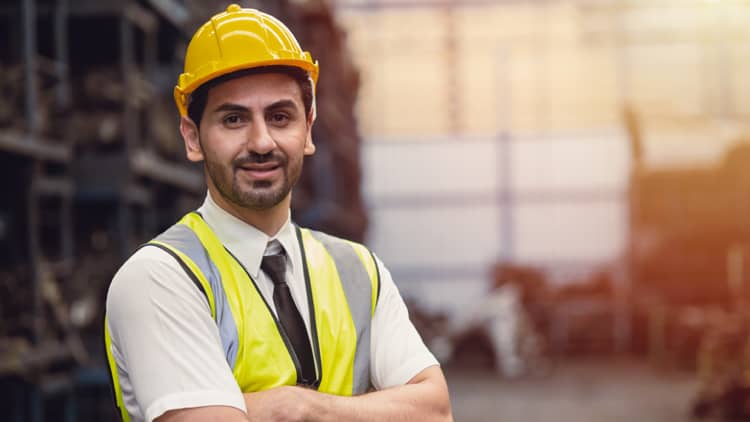 Information on employee rights, employer responsibilities and preventing workplace hazards are all covered in this program.

About OSHA 10-Hour Construction New York Spanish Course
OSHA Construction Outreach Training is only open to students who work under the geographical jurisdiction act of Occupational Safety and Health.
Students who do not belong to jurisdictions are not allowed to appear in this training. They are not eligible for this course. However, the OSHA 10-Hour program is specifically created for beginners in the construction industry who are initially starting their careers or willing to step up in this industry. This program takes almost 10 hours to complete.
We promise that each participant will receive high-quality information that will enhance their career opportunities. We have proficient trainers, different formats for lessons, and 24/7 services. You can learn your courses whenever you are free. Grab the Discounted Offer
OSHA 10-Hour New York Construction Course Before it Expires!
Who Can Attend Construction Training Under OSHA 10?
The completion of OSHA Outreach training is compulsory for many New York employers in building development, construction, and other related industries. The aim of this training course is to educate the employees about their work responsibilities, rights, and safety. It will let them identify and avoid potential workplace hazards.
Obtaining an OSHA 10-Hour Construction card satisfies Local Law 196's requirements for New York City Site Safety Training (SST). For new construction workers who work at sites, they must have the SST worker card. The OSHA Certificate or DOL card is a mandatory requirement for the New York Department of Buildings.
What You Get From New York OSHA 10-Hour Construction Spanish Training?
We aimed to deliver qualitative and authoritative information to all workers. OSHApractice.com is here to make this course effective, convenient, and easy to learn for all candidates. Our professional trainers cover every topic in detail and take assessments to make sure employers properly understand their security and safety procedures.
Our 100% online OSHA 10-Hour Construction Training in Spanish covers all applicable OSHA rules and regulations for the construction sector.
The US Department of Labor (DOL) will issue the OSHA 10 card to workers who successfully complete our OSHA-approved course.
We aimed to make our registration uncomplicated, so you can easily go through every little detail. In case of any difficulty, you can contact our customer support to get the answer to your query. You can send an email or also call us to discuss course requirements.
Do not forget to add your name, contact number, and email address, so we contact you as soon as possible. Our aim is to make our online training OSHA 10-Hour New York Spanish course accessible to everyone.
Why OSHA 10-Hour Construction New York Outreach Online Is Beneficial?
Due to a hectic schedule, it is not easy for everyone to sit for a long time and take their session. That is why we create a mobile-friendly course so you can get your training in your comfort zone. You don't need your laptop; with your phone, you can easily attend your OSHA 10-Hour course.
We consider what our participants want, so we offer this training session at highly affordable rates. It will let you complete your training and get your wallet card certification without any hassle.
The eLearning is straightforward and highly informative. It is the foremost reason people love to receive authoritative training. Our instructor made PowerPoint presentations, audio clips, and videos to make your OSHA online course quite easy.
4. Easily connect with an instructor
Feel free to contact our trainer. With our customer support service, you get a free quote. If you have any questions related to the course, you can contact me through email. Within an hour, you will get our reply.
We understand your busy schedule, so you don't need to face any problems with this training. You can take your class with just a Wi-Fi connection on any device.
To develop a clear understanding, we designed our online training program quite tricky. You need to clear the assessment in the MCQs form to track the goals and objectives. It will train you for your final examination.
Assessment Criteria for OSHA 10-Hour NY Spanish Training
It is mandatory for participants to show their presence in the assessments. The OSHA 10-Hour online training course has 10 modules. At the end of each module, you will be assigned the MCQs-based test that theoretically examines your level of understanding.
Although there is a six-month deadline for finishing the course, employees can finish it as quickly as they'd like—between 24 and 48 hours. Twenty questions on the final exam cover the majority of the subjects. To pass the test, you must receive a 70%.
After passing the test, you are given access to a downloadable OSHA certification and receive your DOL card, which is extremely valuable in the construction sector.
Certification Time, OSHA 10-Hour New York Spanish Construction
For OSHA 10-Hour New York Spanish training course completion, you need 10 hours which means you have 2 to 3 days for this session. According to OSHA authorities, this program is last for 7.5 hours each day. After this, you are not allowed to take the session.
But for your ease, we designed this course for 6 months plans. It will let you take your classes whenever you are free. After completing your 10-Hour training efficaciously, your printable certificate will send you your emails within 2 weeks.
Connect with our certified trainers
Many of you thinking about why the OSHA 10-Hour training in Spanish is necessary. So here are some of the basic things you need to know;
Recognize some of the guidelines in General Health and Safety Provisions of 1926, Subpart C.
You'll be prepared to implement the safety precautions recommended by the Occupational Safety and Health Administration.
Learn how to use the various kinds of personal protective equipment (PPE) as per the guidelines and standards of OSHA.
You will understand the tactic to use fire extinguisher products to reduce incidents.
You know the basic use of rigging tools to protect the laborers and other workers.
Be aware of the health and safety hazards connected with welding.
Understand the importance of scaffold for the workers.
Be conscious of the risk associated with the blasting & explosives agents.
Frequently Asked Questions
The Spanish OSHA 10 Hour Construction course in New York course will cover the following topics:
Construction Industry Dangers
OSHA's Four Risk Management Strategies
Hazards In Material Handling
Employer Responsibilities That OSHA Has Approved
Hazards Of Hand And Power Tools
Personal Protective Equipment (PPE)
Rights of Employees under OSHA And More!
You are allowed to take the Spanish OSHA 10 Hour construction course online. But make sure the online training session requirements meet with rules and regulations set by the Occupational Safety and Health Administration.
If you have successfully completed OSHA 10 training, then you are allowed to work on Article 8 public projects. New York City asks that the OSHA training must be up to the mark every 5 years.