OSHA 10-Hour Construction (Spanish)
Taking safety certification training is advised by OSHA, an agency known as the Occupational Safety and Health Administration. The motive of this organization is to create awareness about safety and security measures.
However, these educational programs increase construction workers' knowledge of how to act to overcome incidents and fatality rates. Employees received some additional training on the unspecified hazards related to their occupation.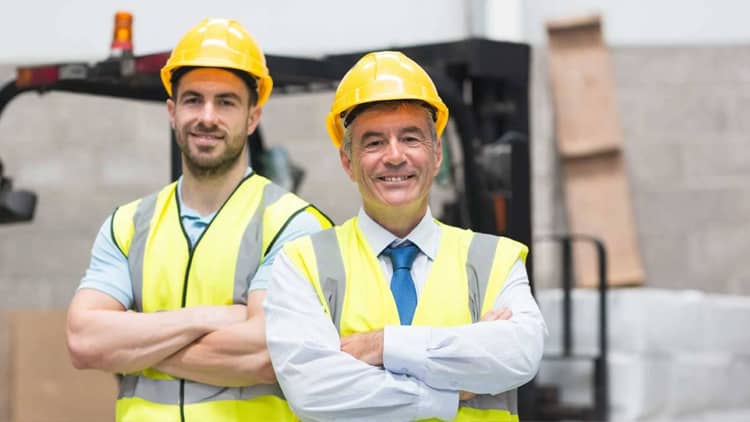 Taking safety certification training is advised by OSHA, an agency known as the Occupational Safety and Health Administration.

Overview of OSHA 10-Hour Construction Spanish Training
A valid DOL/OSHA 10-Hour Spanish card is produced as a consequence of the OSHA 10-Hour Spanish construction outreach training online. Due to this learning session, employees will discover how to identify, reduce, and eradicate the safety and health hazards at job sites. Additionally, this program also clarifies the rights of the workforce, the duties of the employer, and how to lodge a complaint. The fundamental policies were set up to make things simpler and helpful for individuals to adhere the OSHA's safety standards.
We are one of the best who offered authorized OSHA 10-Hour construction Spanish outreach training online. This training must be taken by construction workers such as; Labors, supervisors, and other workforces in the construction business.
They can get benefit from significant training sessions provided by the Occupational Safety and Health Administration Outreach Training Program.
Without any offense, it is the quickest method to assign in a 10-Hour Spanish course & get your valid DOL card. If you successfully finish your course, you will be given a completion certificate without any delay.
What is OSHA 10-Hour Spanish Training?
If you are working in the construction industry, it is crucial to recognize, spot, and keep away from any kind of hazards. The OSHA 10-Hour Spanish training course online helps you to negotiate and minimalize workplace danger at construction sites. Our course is created to help employees to acknowledge their specific risks and feel secure on the job.
Furthermore, the training will assist you in improving your understanding of specific OSHA 29 CFR 1926 construction safety practices.
For instance, you will learn the best strategies to protect yourself in contradiction of the most common causes of accidents and fatalities at construction sites. In this online course, candidates learn how to avoid trips, falls, object collisions, electrocutions, and becoming trapped between pieces of equipment.
As a worker, you need to be conscious of the privileges that OSHA gives you and your employer's responsibility to make sure workplace safety. If your place of employment doesn't sustain its health and safety regulations as a result, you will learn about how to complain.
Who Needs to Take the OSHA 10-Hour Construction Spanish Training Online?
For those who are new to the construction industry, this course is designed for them. Entry-level employees would get sufficient knowledge of their rights according to law, learn the responsibilities towards employers, and find out how to report a complaint Moreover, they discover how to distinguish or lessen the potential risk at the place of work. Applicants will gain an understanding of precautionary measures, risk analysis, risk management, and incident avoidance.
Initial hires in construction-related businesses are the target audience for OSHA 10-Hour Construction Training. Professionals include untrained laborers, plumbing technicians, carpenters, masons, and welding workers along with other professionals.
If you are a worker in the construction areas and need OSHA 10-Hour Spanish card, this course is for you.
Complete Course Details on OSHA 10-Hour Spanish Training?
The goal of the OSHA 10-Hour Spanish construction industry outreach training program is to give beginning construction employees a general understanding of identifying and prevent for hazards while working on a job site. According to OSHA's recommendation, workers should be aware of their working environment and receive adequate knowledge to reduce yearly accidents and fatalities. Once they understand and learn the tactics to overcome the incidents, they can secure themselves and others from any kind of hazards.
Segments in OSHA 10 Course Spanish
This 10 Hour Spanish construction course covers subjects like acknowledging, preventing, reducing, and eliminating hazards at the workplace. Course material includes:
Segment 1 – OSHA Introduction
Segment 2 – OSHA's Four Focus Hazards
Segment 3 – Personal Protective Equipment
Segment 4 – Construction-Related Health Risks
Segment 5 – Use of heavy machinery
Segment 6 – Excavations Material Handling, Use, and Disposal
Segment 7 – Scaffolds techniques
Segment 8 – Use of Power and Hand Tools
Segment 9 – Management to environmental culture
Assessments or Testing Criteria
The assessment criteria for the OSHA 10-Hour construction course is based on Multiple Choice Questions. The participants must gain at least 70% marks then they will consider passed and capable of getting their certificate or DOL card. If the candidate does not secure a targeted score, they need to reconsider the exam in order to get their certification.
The final test must be passed to receive full acclaim for the course. The 20th question on the final exam measures your understanding of the material taught in the course. To pass, you must have a test score of at least 70%. You have three opportunities to ace the final test. If you fail the exam three times, you are not eligible for this course and cannot finish your outreach training online.
Time Duration for OSHA 10-Hour Construction Certification
Within six months of the date of course enrollment, participants must complete the OSHA 10-Hour Spanish Construction Outreach Training Online. After six months, you cannot sign in with your old account, it will expire. So, you'll have to buy the course again.
If you successfully complete this course, you are eligible to get the provisional printable card or certificate from OSHA. You just need to wait for two weeks to get your DOL card or certificate through the mail.
Benefits of Taking OSHA 10-Hour Spanish Construction Course Online
You don't need to open your laptop or PC to conduct our course. Now you can view your course at your phone without hassle.
2. Take Class at Anywhere Anytime
It's not necessary to complete the course in one session. You are free to work through the curriculum at your own pace and take pauses as needed. However, our system will carry on from where it left off and complete its task.
We created this course after considering the demand of our participants. At the lowest pricing, you get training at your home and receive a DOL card.
4. Digital Course Content
There are different modes of information that are created for the convenience of our candidates. Through e-learning sessions and PowerPoint presentations, you will receive a clear understanding. You can even save our files for later use. Every PPT is supported by videos and images to engage candidates.
The thing is our courses are designed in a modular form, so you can take them anytime or anywhere. There is no time boundary. Even though you can save your progress and complete your training as quickly as possible.
We have designed our courses for your convenience so that you may finish and keep track of the objectives for each module, which will help you reply to the final assessment.
What You Get From This Course?
Some of the basics things you will learn from this course;
The learner will also be competent to use past events and current knowledge to address the significance of OSHA in sustaining a safe and healthy work environment for workers.
Understand some of the provisions in Subpart C of the 1926 General Health and Safety Provisions.
You will be ready to implement the measures for work accidents as per the Occupational Safety and Health Administration.
Learn the different types of personal protective equipment (PPE) and get an idea of how to utilize it in accordance with OSHA regulations.
Get skilled in how to use fire extinguisher products at your work site.
You know the use of different rigging equipment in order to save employees.
Also, learn the safety and health hazards of welding.
Realize the significance of scaffold for employees.
Understand the precautions or hazards of using blasting agents and explosives.
Invest in a Successful Career by Completing OSHA 10 Construction Course at a Discounted Rate! Frequently Asked Questions
It takes almost 2 to 3 days to complete your training. As per OSHA, the training session is conducted for 7.5 hours per day.
Topics covered in this OSHA 10-Hour Spanish course include Orientation, Introduction, and different segments such as Personal protective equipment, emergency action plans, fall protection, fire protection, and more.
You are eligible to get your DOL card and consider the security and health concerns of the employees. OSHA defends laborers by emphasizing the value of security at work.