Our OSHA 30-Hour Construction New York Outreach Training Course
OSHA offers 30 Hour training programs for both the construction industry and the general public. If you are in construction training, then you must choose the OSHA 30-Hour New York Outreach training. Make sure you enroll in the right version that is close to your career sector. However, this certified course is specially planned for the supervisors and managers who are involved in the building development, demolition, and construction industry.
If you want to get the most authorized online training, then OSHApractice.com surely is your go-to website. For your feasibility, you may finish your OSHA outreach training online whenever it's convenient for you. Whether you are at home or at work, we are one of the most comprehensive online training platforms.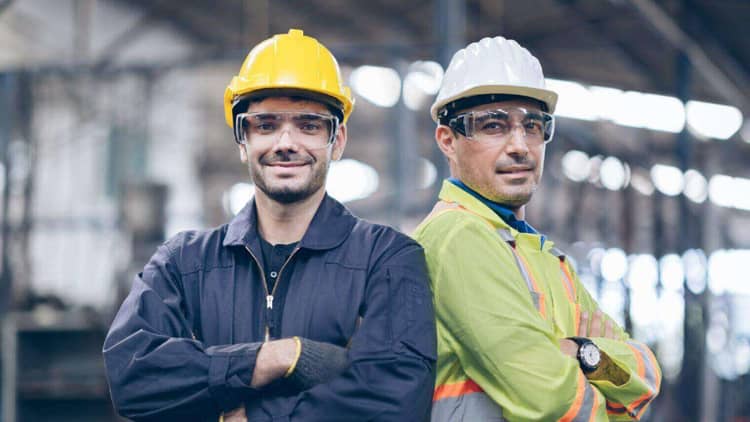 OSHA offers 30-hour training programs for both the construction industry and the general public.
What Is OSHA 30-Hour New York Construction Training Course?
If you are looking for a job in the construction industry in New York, OSHA 30 training is compulsory as per the laws of Department of Labor. So, before starting your career, you need to enroll in this course and get certified for building a safe work environment.
Due to the increase in fatalities every year, the OSHA courses guide individuals about the measures to take at the time of any incident or accident. It provides a thorough summary of the most typical risks associated with building work, including electrocution, being struck by a moving object, being caught in or between objects, and falling. We, at OSHAPractice.com, worked with a variety of businesses, such as warehousing, plumbing, manufacturing, construction, and more.
We all know construction is one of the most growing industries in this era, but there are several risks associated with it. OSHA (Occupational Safety and Health Administration) statistics show that one out of every 10 construction workers in the US sustains an injury each year. The OSHA Act was established in 1970 by the Government and Congress to address workplace risks. Since its creation, it has mandated that everyone who will work in the construction business complete extensive safety training.
Why OSHA 30-Hour Training Outreach Training NY
There are currently more than 400 safety training courses online, but OSHA Outreach Courses are authoritative. After passing the OSHA 30 Hour NY training course, students can achieve wallet certification or DOL cards. The following are some additional advantages of enrolling in OSHA Outreach Courses:
Get dedicated support staff around the clock.
Online training is easily accessible and offers detailed course completion reporting
For graduates of OSHA's 30 Outreach programs, an OSHA certificate and DOL card are required.
Multimedia interactive classes
Cost-effective
Personalized learning management systems
Online certification on the basis of assessment
Corporate billing and earning group discounts
Final Assessment for OSHA 30-Hour NY Training
The evaluation and testing standards are fairly challenging. This course is divided up into various parts. Each module is going to end with a quiz session. You must choose the correct answer from a minimum of 10 questions on each test. Multiple-choice questions (MCQs) are the format used by the authorities when conducting the test.
A DOL certification card can only be obtained once you pass the exam with a minimum score of 70% on every section. You have three opportunities to complete the module if you don't attempt the quiz successfully; else, you'll be removed from the course.
We make sure that our registration process must be simple and straightforward so that no one will face any difficulty. In case of any problem, while signing up, you send us a free quote and get connected with one of our consultants they will surely respond to you. Our customer support service will reply to you in no time delay.
Make sure you fill out the quotation form properly such as name, phone number, and email address. You can get in touch freely by sending a quotation. Get your free quote right away if you need any clarification. Invite your Colleagues to Avail the
Discount on Your Purchase with Group Enrollment
Modules for OSHA 30-Hour Construction Training for New York
The hazards in the construction industry are quite common. So, the Occupational Safety and Health Authorization recommend taking OSHA training classes to make sure about your work environment's safety and security. Moreover, this course creates awareness and taught the employees about their legal rights and learns the employer's obligation.  Even they also have the authority to file a complaint if they find out companies do not focus on the health and safety of their employees.
These are the major topics we concluded in our OSHA 30-Hour New York Construction Training;
Module #1 – An Overview of OSHA
Module #2 – Rights & Responsibilities of Both Employee & Employer
Module #3 – The Personal Protective Equipment
Module #4 – Health and Safety Programs Are Required
Module #5 – Risk Reduction
Module #6 – Cranes and Rigs
Module #7 – Compliance Reporting and Recordkeeping
Module #8 – Arc Flash Hazards
Module #9 – Masonry Hazards
Module #10 – Realize How to Make Any Complaint
Module #11 – Focus On Four Risks
Module #12 – Forklift Risks
Module #13 – Identify Health Risks Associated With Construction
Module #14 – Confined Space Hazards
Module #15 – Tricks for Material Handling
Module #16 – Steel Construction Hazards
Module #17 – Lockout and Tagout Material
Module #18 – Excavations
Module #19 – Training for Supervisors To Build Safety Workplace
Module #20 – Motorized Mobile Platforms
Module #21 – Learn More About Power & Hand Tools Discover the Secret of Creating a Healthy Workplace Environment with OSHA 30-Hour New York Training
How Long Does Our OSHA 30-Hour NY Construction Training Course Last?
You are eligible to receive your printable certificate and DOL card from OSHA after successfully completing the course. In about two weeks, you will earn your provisional certificate by email.
On average, you just need to wait 15 days. You will receive the OSHA wallet card soon. To distinguish yourself from other candidate's 30-Hour OSHA New York training add 5 stars to your CV. However, you have 30 hours to finish this online training. But, it is not possible due to the hectic routine these days. We give you 6 months right away to finish OSHA training. Whenever you are free, you can get your training.
Once you have to get registration, keep in mind that you have to complete the whole training session within six months. You are allowed to save your progress to find out where you left off and then continue from it. For instance, if you are unable to complete the course in the given time period, you have to buy the course again.
Want to Get New York OSHA 30-Hour Construction Training?
Do you want to get OSHA certification for New York? If yes, then enroll in our cost-effective training course. We are offering the OSHA NY course for just $99, you are allowed to buy now & pay later. We construct this course for the ease of our candidates.
According to New York State Law 196, OSHA certification is necessary. And, we offer authorized OSHA courses and valuable DOL cards/certifications.
WHY JOIN OSHAPRACTICE.com?
We Are the Best Option for OSHA 30-Hour New York Online Training
Occupational Safety and Health Administration (OSHA) is highly concerned with the employees' health and security. They aim to decrease the fatality rate due to workplace hazards. So, our online OSHA 30-Hour course gives you the opportunity to learn this course online and train yourself to build the safest work environment.
You understand what OSHA-protected worker rights there are.
Know your obligations as an employer under OSHA
Identify the main risks of falls
Recognize typical caught-in- or between hazards
Identify typical hit-by dangers
You know the different electrocution risks.
Find out how to choose suitable PPE and lifesaving tools.
Learn the main health risks that the construction industry frequently faces.
Know how to protect yourself from risks associated with material handling
Identify the hand and power tool risks Exclusive Offer
Start OSHA 30-Hour New York Construction Training while You Pay in Installments!
Frequently Asked Questions
OSHA 30 Hour construction training gains more importance for New York construction employees and managers. Students who successfully complete this OSHA course will receive an official DOL card from the Department of Labor (DOL).
Students must obtain a grade of 70% marks or more to successfully pass a quiz or the final exam.
OSHA 30 is considerably lengthier. Supervisors, engineers, managers, project managers, site leads, and safety experts and more. OSHA 10 is designed for employees who are solely accountable to themselves.